The Wireless Sniffer is an item added by the Wireless Redstone mod that "sniffs" for activated signal frequencies. When a Wireless redstone frequency is activated, the dimmed out red box assigned to that frequency lights up. You can view that frequency number by mousing over the box. There are 5,000 frequencies available.
This can be useful for checking to see if a frequency is in use or not. Another method of this is the Private Sniffer, as it can reserve frequencies for the player, and tell if the frequency is in use.
Wireless Sniffer
Name
Wireless Sniffer
Type
Tool
Stackable
No
Data Value
6359
Source Mod
Wireless Redstone Chicken Bones Edition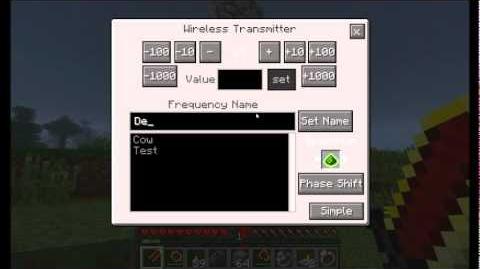 Ad blocker interference detected!
Wikia is a free-to-use site that makes money from advertising. We have a modified experience for viewers using ad blockers

Wikia is not accessible if you've made further modifications. Remove the custom ad blocker rule(s) and the page will load as expected.