The Weighted Companion Cube is similar to the
Weighted Storage Cube
, but so much more cute.  When holding it in your hand it will help you regenerate half a heart once every 5 seconds. The Weighted Companion Cube is a free moving block, meaning it can be pushed around anywhere in the world.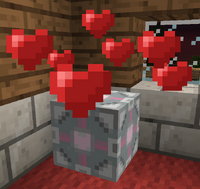 To create this beautifuly majestic cube that emits hearts when you click on it, place your Weighted Storage Cube on the ground, and then simply right click on it with a poppy. Then you can break your newly created companion and carry it with you.
Video Tutorial
Edit
Ad blocker interference detected!
Wikia is a free-to-use site that makes money from advertising. We have a modified experience for viewers using ad blockers

Wikia is not accessible if you've made further modifications. Remove the custom ad blocker rule(s) and the page will load as expected.