Tube Frames are a part of the Redpower 2 mod and are a combination of a Pneumatic Tube and a Support Frame that lets you use the Tube Frame like a normal support frame and a normal Redpower Pneumatic tube at the same time. That is, the Tube Frame can be moved by Frame Motors and can also function as part of a Pneumatic Tube network at the same time.
There is also a redstone tube version of this called the Redstone Tube Frame.
One example of when this might be useful is if you want to move items from one end of a frame structure to the other end; i.e. a mobile mining platform.
Here is a tutorial video on Frames and Tube Frames and how to use them.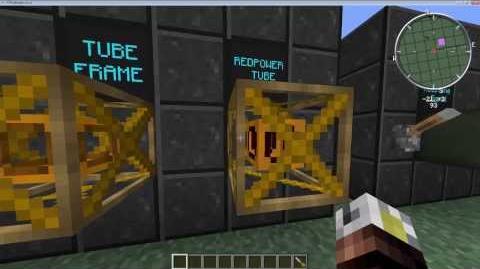 RedPower 2
 

Blutricity

Energy Storage

Energy Generators

Machines

Wires & Misc
 

Computers

Cables & Misc

Components

Machines

Peripherals
Ad blocker interference detected!
Wikia is a free-to-use site that makes money from advertising. We have a modified experience for viewers using ad blockers

Wikia is not accessible if you've made further modifications. Remove the custom ad blocker rule(s) and the page will load as expected.