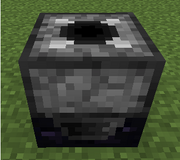 The Soul Forge is part of the Soul Shards mod.  It functions like a furnace and burns Corrupted Essence in varying amounts to smelt ingredients. The most important recipe is making Soul Shards.
All Pickaxes, Mining Turtles, Mining Laser, and Mining Drills will recover the Soul Forge.
Recipes:
1 Iron Ore or Iron Bar yields 3 Corrupted Fragments
1 Gold Ore or Gold Bar yields 1 Corrupted Ingot
(note: in both recipes above, 1 Corrupted Essence burns long enough to perform 8 operations. Also, the recipes work with both ores and bars but there are technologies in most packs for doubling or tripling an ore's output in bars, so that is a decision for the user.)
1 Diamond smelted with 8 Corrupted Essences yields 3 Soul Shards
(note: takes 10 minutes 40 seconds. Comments below say this process is not chunkloader friendly. Several diamondish substitutes tested, only a regular vanilla diamond works.)
The updated version of the mod has more recipes, but is not in the modpacks yet.
Ad blocker interference detected!
Wikia is a free-to-use site that makes money from advertising. We have a modified experience for viewers using ad blockers

Wikia is not accessible if you've made further modifications. Remove the custom ad blocker rule(s) and the page will load as expected.