A small steam locomotive. Part of Traincraft. Max speed: 60km/h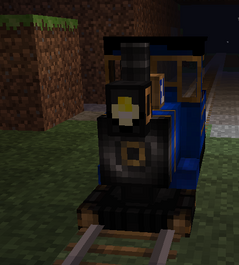 Water and fuel
Edit
Fuels duration (each tick has one chance over four to reduce fuel by one):
sticks = 200;
coal = 800;
lava bucket = 1000;
sapling = 200;
blaze rod= 2000;
Coalfuel cells = 1400
Coal Coke = 1400
Internal water storage: 5 buckets, each buckets equals 10 water units which make a total of 50 water units inside the tank
How to use
Edit
Right click on it to get in, then press R to show up the GUI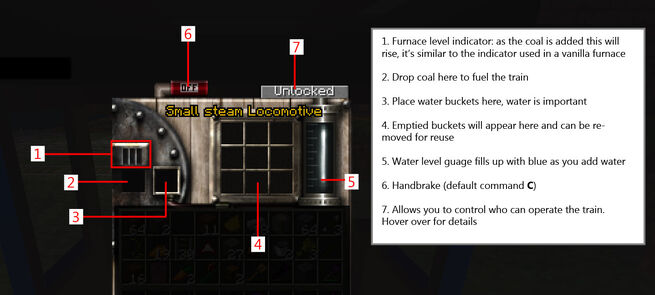 Steam locomotives need two things, a fuel source and water so fuel it with:
Any furnace fuel in the first slot,
Water buckets / IC2 water cells in the second slot
TrainCraft
 

Utilities

Tools

Fuels

Rails

Construction
 

Wagons

Passenger

Tenders

Liquids

Other
Ad blocker interference detected!
Wikia is a free-to-use site that makes money from advertising. We have a modified experience for viewers using ad blockers

Wikia is not accessible if you've made further modifications. Remove the custom ad blocker rule(s) and the page will load as expected.