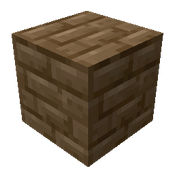 Sandy Bricks are a block added by the Railcraft mod. They are a cosmetic version of Coke Oven Bricks. They will not form a coke oven, but they are cheaper to make and do not cause performance issues when used on a large scale like Coke Oven Bricks.
Sandy Bricks are made with two sand and two bricks.
Besides being used for decoration, sandy bricks can also be used to craft a coke oven, but as the total resource cost is the same, you should only do so if you already had sandy bricks you wanted to convert to a coke oven. Note you cannot convert a coke oven back to sandy bricks. They may also be crafted to make half slabs, the same way you would make other slabs.
Ad blocker interference detected!
Wikia is a free-to-use site that makes money from advertising. We have a modified experience for viewers using ad blockers

Wikia is not accessible if you've made further modifications. Remove the custom ad blocker rule(s) and the page will load as expected.