Ruby
Name
Ruby
Type
Item
Tool
Stackable
Yes (64)
Data Value
21256:32
Source Mod
GregTech
Ruby is a gem added by GregTech, along with Sapphire and Green Sapphire. It cannot be used interchangeably with the RedPower 2 Ruby, but it can be converted to a RedPower 2 ruby provided that there are at least 9 to create a Ruby Block that can then be placed in a crafting grid to create 9 RedPower rubies. Without being converted, GregTech Rubies can be used in the creation of an Energy Crystal or a Mining Laser or the creation of Ruby Dust.
The Ruby item (see picture of ruby above ore) is no longer obtainable in mindcrack pack v8.0.1 and all ores of the gregtech ruby shall become the redpower ruby (including the already mined gregtech ruby). Other modpacks need confirmation.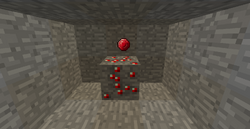 GregTech
 

Energy

EU Generator Blocks

EU Storage Blocks

EU Storage Items

Nuclear Reactor Components

Fusion Reactor Blocks

Misc. energy
 

Cells

Pure Chemical Element Cells

Chemical Compound Cells
Ad blocker interference detected!
Wikia is a free-to-use site that makes money from advertising. We have a modified experience for viewers using ad blockers

Wikia is not accessible if you've made further modifications. Remove the custom ad blocker rule(s) and the page will load as expected.