Rolling Machine
Edit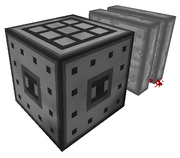 The Rolling Machine is a Railcraft machine used for stamping out various metal items. It requires power from a BuildCraft engine. Items that can be made with the Rolling Machine include:
Crafting Recipe
Edit
Specifications
Edit
The rolling machine uses MJ as a power source. When not in use, it will still draw power (albeit at a much reduced rate).
| | |
| --- | --- |
| Maximum current usage: | |
| Internal MJ storage: | 500 MJ |
| MJ use per operation: | 500 MJ |
The GUI/Interface
Edit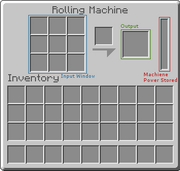 The rolling machine works similarly to a crafting table. It will automatically draw power and use it to craft the items in the left-hand grid unless it can only produce a single item with the ingredients it has in stock. In that case, it will wait for the player to click the image between the crafting table and the output slot before beginning to work.
Video Tutorial
Edit