Reactor Chambers are used in the construction of a Nuclear Reactor. Up to six additional reactor chambers may be attached to a nuclear reactor to increase the capacity of the reactor. Each added Reactor Chamber adds 6 additional slots to the Nuclear Reactor. This allows for additional fuel cells and cooling, allowing for more EU production. Reactor chambers also increase the maximum hull temperature of a reactor, up to 10000 heat.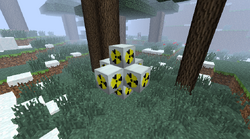 Reactor Chamber is used when crafting a Nuclear Reactor.
IndustrialCraft2
 

Energy and Wiring

EU Storage Blocks

EU Storage Items

Transformers
 

Nuclear Reactor Components

Cooling

Heat Management

Plating

Radioactive

Reflectors
Ad blocker interference detected!
Wikia is a free-to-use site that makes money from advertising. We have a modified experience for viewers using ad blockers

Wikia is not accessible if you've made further modifications. Remove the custom ad blocker rule(s) and the page will load as expected.