Packager
Name
Packager
Type
Block
Stackable
Yes (64)
Data Value
1000:8
Source Mod
Factorization
The Packager is an item from the Factorization mod. It compresses items by attempting to craft them in 3x3 square and failing that, in a 2x2 square. For example, placing Stone in the machine will turn it into Stone Bricks every time it receives four stone.
Note: Because GregTech changes the recipes for Iron/Gold/Diamond Blocks to require the Compressor, this machine can not be used in any FTB pack containing GregTech to create Iron/Gold/Diamond/Emerald Blocks.

It requires both a Craftpacket Maker  and a Craftpacket Stamper to craft.
Automation
Edit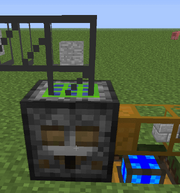 It requires no form of power to run, and can be automated by pumping the blocks to be crafted into any side, and pumping them out of the top or bottem. Alternatively, it can be used manually by placing the blocks to be compressed in the left hand side of the interface.
If the machine is empty when pipes begin placing blocks in it, it won't start packaging. neptunepink, the author of Factorization has stated that this is due to a bug in Buildcraft. This can be resolved by temporarily pumping an item out the bottom, or removing the items and replacing them from the interface.
Factorization
 

Utilities

Tools

Armor

Storage

Lighting
 

Resources

Ores and Ingots

Other
Ad blocker interference detected!
Wikia is a free-to-use site that makes money from advertising. We have a modified experience for viewers using ad blockers

Wikia is not accessible if you've made further modifications. Remove the custom ad blocker rule(s) and the page will load as expected.