MFE
Talk

0
2,615pages on
this wiki
The Multi Functional Electric Storage unit or MFE is the second tier of energy storage devices.
One MFE is capable of storing up to 600,000 EU = 15 Batboxes.
INPUT: Accepts up to 128 EU (MV) packet power into any of its 5 input faces, with unlimited EU/t
OUTPUT: Emits 128 EU (MV) packets from its output face (the face with the dot), with a max of 128 EU/t (MV). This current will destroy all first tier machines if it is not first transformed with an LV Transformer.
At least a Gold Cable (MV) is required to directly output. Ultra-Low-Current Cable (ULV) and Copper Cable (LV) will burn.
The MFE will not explode if it reaches full capacity.
The MFE can also accept a redstone input. This will change the action of the MFE depending on which setting is selected. This setting can be changed by clicking the button with an image of redstone on the top right.
If you place redstone in the bottom slot of the MFE, it will be burned and added to its internal energy storage.
In GregTech, Lithium Batteries can be used in place of energy crystals.
Video Tutorial
Edit
Here is a great video explaining everything you need to know about the MFE: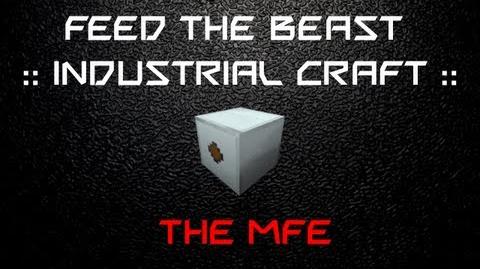 Here is a video geared towards intermediate and advanced players that will explain some of the more advanced concepts of IndustrialCraft EU power.
IndustrialCraft2
 

Energy and Wiring

EU Storage Blocks

EU Storage Items

Transformers
 

Machines

Components

Gatherers

Generators

Processors

Utility
 

Nuclear Reactor Components

Cooling

Heat Management

Plating

Radioactive

Reflectors