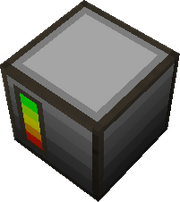 Your Applied Energistics storage system will probably not work without a ME Controller. It is the main part of any ME Network which handles everything like a CPU does in your computer.
Power Supply
Edit
The Controller will need power to work. It has its own energy units which will be created inside the machine itself. But you have to supply it with one of the following forms of power:
The Controller has a minimal consumption of 6 units/tick which it needs to function. The indicator on its side shows the current power level. When adding more components to your ME Network the consumption of your Controller will become greater. So bigger networks will need more energy than smallers.
If you can't provide a steady supply of energy it might be useful to disconnect parts of your system when they aren't needed. You can do so using the ME Dark Cable.
Right-clicking on the Controller will open up its interface. It will show you all the components connected to your network and the current use of energy.
Video Tutorials
Edit
Ad blocker interference detected!
Wikia is a free-to-use site that makes money from advertising. We have a modified experience for viewers using ad blockers

Wikia is not accessible if you've made further modifications. Remove the custom ad blocker rule(s) and the page will load as expected.