Logger
Type
Machine
Tool
Stackable
Yes (64)
Data Value
931
Source Mod
Forestry
The Logger has an area of operation of 21x13x21 (X-Y-Z) with the Logger at the centre (from 10 blocks above the Logger down to 2 below it), and it must be powered by an Engine. The Logger will begin harvesting trees, one at a time, as long as at least one block of the tree trunk is within the area of operation.
The logger also picks up any saplings and apples that drop in its area. Harvested materials are auto-ejected into connected Pipes or placed into adjacent Chests. If using pipes, saplings and apples are only ejected into a pipe on top or bottom of the logger while the logs will only come out of the sides.
Use the logger in conjunction with the Arboretum as the starting blocks for an automated tree farm, as shown here:
Note that this machine requires 3 Diamantine Electron Tubes. It takes 5 diamonds to make 4 Diamantine Electron Tubes, making this a somewhat expensive machine.
4. Glass
3. Diamantine Electron Tube
1. Sturdy Machine
1. Basic Circuit Board
Video Tutorials
Edit
This video tutorial is a quick guide to setting up a semi-automated tree farm.
This video demonstrates how to use all forestry farms, including the logger.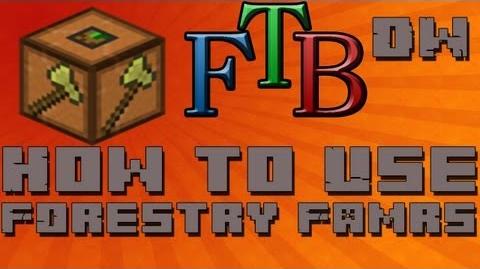 Ad blocker interference detected!
Wikia is a free-to-use site that makes money from advertising. We have a modified experience for viewers using ad blockers

Wikia is not accessible if you've made further modifications. Remove the custom ad blocker rule(s) and the page will load as expected.