The Low Voltage Transformer is used to turn Medium Voltage (MV - 128) EU current into Low Voltage (LV - 32) EU and back. This is useful for powering basic machines.
MV current must be wired into the High Voltage face (the 3-dotted one), while LV current can be wired into any other face. By default, the Transformer outputs LV current. A Redstone signal must be applied to it in order to make it reverse flow, thereby emitting MV current from the High Voltage face (the 3-dotted one).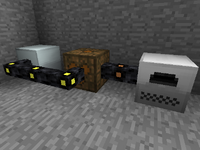 It can handle a maximum of one conversion per tick, limiting the maximum transfer to 128 EU/t in either mode.
Wooden Planks
Insulated Copper Cable
Copper Ingot
IndustrialCraft2
 

Machines

Components

Gatherers

Generators

Processors

Utility
 

Nuclear Reactor Components

Cooling

Heat Management

Plating

Radioactive

Reflectors
Ad blocker interference detected!
Wikia is a free-to-use site that makes money from advertising. We have a modified experience for viewers using ad blockers

Wikia is not accessible if you've made further modifications. Remove the custom ad blocker rule(s) and the page will load as expected.