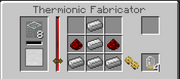 Iron Electron Tube
Stackable
Yes (64)
Source Mod
Forestry
The
Iron Electron Tube
is an item from the
Forestry
Mod.
Electron tubes are used in most of the recipes for farms, as well as being used to upgrade certain machines. They can only be crafted in a Thermionic Fabricator, requiring Molten Glass. When placed into Circuit Boards, they reduce the EU intake of the attached Electrical Engine by 1 EU/t. Iron Electron Tubes are among many items treated as Chips by GregTech.
Note that the output slot will not show the output until the Thermionic Fabricator is hot enough to produce Molten Glass.
GregTech
 

Energy

EU Generator Blocks

EU Storage Blocks

EU Storage Items

Nuclear Reactor Components

Fusion Reactor Blocks

Misc. energy
 

Cells

Pure Chemical Element Cells

Chemical Compound Cells
Ad blocker interference detected!
Wikia is a free-to-use site that makes money from advertising. We have a modified experience for viewers using ad blockers

Wikia is not accessible if you've made further modifications. Remove the custom ad blocker rule(s) and the page will load as expected.