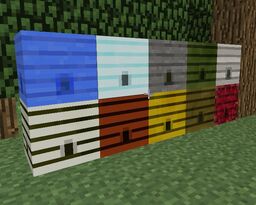 Hives naturally occur in the wild. Some can be easily found, while others are well camouflaged.
There are eleven types of hives:

To successfully harvest a hive, a Scoop, Mining Laser, Wand of Excavation, or Quarry is needed. If the hive is broken with any other tool, the player will not get any bees or product from it.
Getting a hive block
It is possible to get a hive block with a Portal Gun (or maybe a Gravity Gun ) by pressing G to grab it as an entity then place it in a transparent block, e.g.: Torch(?). Then it will pop into a hive block, which you can replace later to get the bees with a scoop or use it as decor.
Ad blocker interference detected!
Wikia is a free-to-use site that makes money from advertising. We have a modified experience for viewers using ad blockers

Wikia is not accessible if you've made further modifications. Remove the custom ad blocker rule(s) and the page will load as expected.