Fusion Coil
Name
Fusion Coil
Type
Block
Stackable
Yes (64)
Source Mod
GregTech
Fusion Coils
are blocks added by
GregTech
. They are used in the production of
Fusion Reactors
.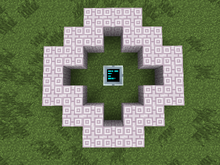 In order for a Fusion Reactor to function properly, you must place 24 of these in a horizontal ring around the device. Otherwise, the GUI on the reactor will say "Coils: No", and will not function. Fusion Coils are the center of the Fusion-Reactor-Torus
GregTech
 

Energy

EU Generator Blocks

EU Storage Blocks

EU Storage Items

Nuclear Reactor Components

Fusion Reactor Blocks

 Fusion Reactor

 •

 Fusion Coil

Misc. energy
 

Cells

Pure Chemical Element Cells

Chemical Compound Cells
Ad blocker interference detected!
Wikia is a free-to-use site that makes money from advertising. We have a modified experience for viewers using ad blockers

Wikia is not accessible if you've made further modifications. Remove the custom ad blocker rule(s) and the page will load as expected.