For Gregtech's Distillation Tower, see Distillation Tower (Gregtech).
The Distillation Tower (called "Distil" by NEI) is an item from TrainCraft used to transform Crude Oil, Oil Sand, and Sugar Cane into Diesel.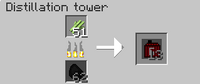 Right-click on it. Fuel it with Coal, and then put crude oil, Oil Sand, or Sugar Cane in the top slot. It will then burn to produce diesel.
TrainCraft
 

Utilities

Tools

Fuels

Rails

Construction
 

Transportation

Steam Trains

Diesel Trains

Electric Trains

Other
 

Wagons

Passenger

Tenders

Liquids

Other
Ad blocker interference detected!
Wikia is a free-to-use site that makes money from advertising. We have a modified experience for viewers using ad blockers

Wikia is not accessible if you've made further modifications. Remove the custom ad blocker rule(s) and the page will load as expected.