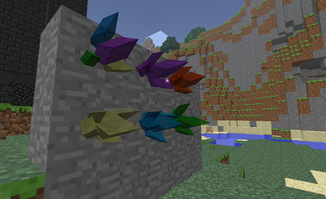 You have found a way to fuse the crystal shards into a larger, more stable, crystalline clusters. These crystals thrum with magical energy and are quite pleasing to the eye.
These crystals seem to be able to slowly replenish nearby aura nodes and even boost their vis levels to a limited degree. Of course that will probably lead to Flux build-up, but the benefits may outweigh the negative side-effects.
Crafting the Crystal Clusters must be done at the Infusion Altar. Crafting also consumes 100 Vis, 8 Vitreus, 8 Praecantatio and 8 Permutatio (from a nearby crucible or other source)
Ad blocker interference detected!
Wikia is a free-to-use site that makes money from advertising. We have a modified experience for viewers using ad blockers

Wikia is not accessible if you've made further modifications. Remove the custom ad blocker rule(s) and the page will load as expected.