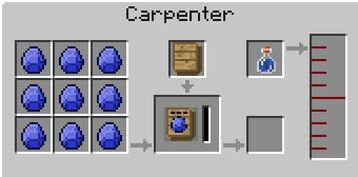 Crates are used in a carpenter in order to compress items to be nine times smaller. They require water as the liquid to make and are quite useful for storing cobblestone and other common materials prior to sending to a recycler.

Recipe requires some water.

Note: This item has been removed from Forestry and is being replaced with a better alternative in the future. x
Ad blocker interference detected!
Wikia is a free-to-use site that makes money from advertising. We have a modified experience for viewers using ad blockers

Wikia is not accessible if you've made further modifications. Remove the custom ad blocker rule(s) and the page will load as expected.