Bottler
Type
Machine
Tool
Stackable
Yes (64)
Data Value
938:2
Source Mod
Forestry
The Bottler fills capsules, tin cans or fuel cans with liquid. A Bottler can fill cans or capsules with water, Liquid Honey, Apple Juice, Seed Oil, Biomass, Biofuel, Oil, Fuel or lava. It cannot be used to fill Aluminum Cans.
The Bottler requires Buildcraft power and is compatible with Buildcraft pipes.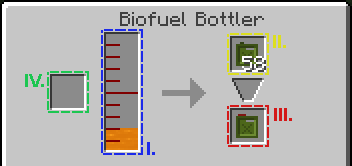 I. Resource tank :
Stores the biofuel required to fill fuel cans
II. can slot:
Input area for cans and capsules.
III. Product slot:
Bottler will deposit and store filled cans and capsules in this slot.
IV. Input slot
Manual input slot for Biofuel.
4. Empty Can
4. Glass
1. Sturdy Casing
Ad blocker interference detected!
Wikia is a free-to-use site that makes money from advertising. We have a modified experience for viewers using ad blockers

Wikia is not accessible if you've made further modifications. Remove the custom ad blocker rule(s) and the page will load as expected.