Accessory: Top Hat
Type
Item
Stackable
yes (64)
Data Value
25292
Source Mod
Thaumcraft 3
This tiny hat is the perfect accessory for any golem. Not only is it stylish and dashing, but any golem wearing it will have increased health and vitality.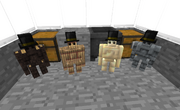 Crafting the Top Hat must be done at the Infusion Altar. Crafting also consumes 25 Vis and 8 Potentia (from nearby crucible or other source)
Ad blocker interference detected!
Wikia is a free-to-use site that makes money from advertising. We have a modified experience for viewers using ad blockers

Wikia is not accessible if you've made further modifications. Remove the custom ad blocker rule(s) and the page will load as expected.