Accessory: Bowtie
Type
Item
Stackable
yes (64)
Data Value
25292:2
Source Mod
Thaumcraft 3
A must for any golem on the go, this bowtie will fill it with additional energy, increasing its pace.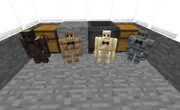 Crafting the Tiny Bowties must be done at the Infusion Altar. Crafting also consumes 25 Vis and 8 Motus (from nearby crucible or other source)
Ad blocker interference detected!
Wikia is a free-to-use site that makes money from advertising. We have a modified experience for viewers using ad blockers

Wikia is not accessible if you've made further modifications. Remove the custom ad blocker rule(s) and the page will load as expected.